About F.K.S

F.K.S. Fördertechnik GmbH
Konrad-Zuse-Straße 14
D-33758 Schloß Holte – Stukenbrock
Tel. +49 (0) 52 07 99 35 888
Fax +49 (0) 52 07 99 35 890
F.K.S Fördertechnik GmbH produces drive and conveyor chains as well as sprockets in a wide variety of designs since 1991. The Know-How, gained over many years, ensures products of the highest quality and enable us to provide a multitude of chain types in quite a short time. The combination of permanent staff with its experience and our up-to-date CNC machining centres guarantees highest precision. The resulting quality standard of our products is continuously adjusted to current state of technology.
Products shown on our Website provide but a small glimpse of our range. We are able to supply suitable chains, and special designs respectively, for any purpose due to our constant readiness to respond to customer wishes and by successfully exchanging experience with our customers.
Challenge us with your requests, questions and problems so that we may take the opportunity to convince you of the capabilities of F.K.S. Fördertechnik.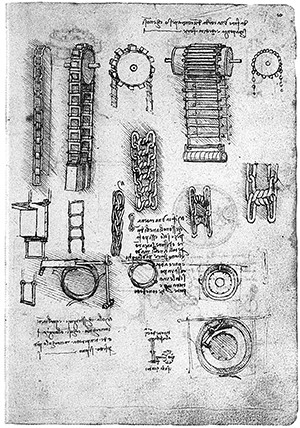 Drawing by Leonardo da Vinci